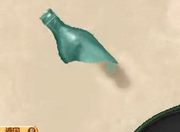 Empty bottles wash up on shore from time to time and are very handy.
Bottles can be found where you wash up on shore at the begining of the game. They are rare. They are filled up with water every time you drink from the river and become "Bottled Water". The water in the bottle can be transfered and stored into the drum. You can give bottles to Skye while giving her food to cook. If you have a domesticated goat she can fill up the bottles with goat's milk. This would be "Bottled Milk".
"A glass bottle that washed ashore. It can be used as water bottle to carry drinking water." -Scrapbook
Found washed up shore on beach 3.
"A glass bottle washed ashore by the waves. It can be used to carry drinking water." -Picture Book
Bottles can be found washed up on beach shores. They can be used to store 1 liter of water each. When kept in the player's bag, they will automatically fill with water when the player drinks from a water source. Filled bottles can transfer the water they hold to an oil drum or other water-storing container.
"A glass bottle washed ashore by the waves. It can be used to carry drinking water." -Album