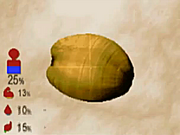 Coconut is a food item found in the Lost in Blue series.
Found on the ground next to palm trees along the beach. Can also be obtained by shaking palm trees. Gives you +10% thirst and +5% hunger when eaten raw.
"It falls from the palm tree on the beach. The younger fruit has a lot of liquid and when ripe, will have a thick, white flesh which is full of oil." -Scrapbook
"These fall from coconut trees on the beach. Younger coconuts have a lot of liquid inside. When ripe, they develop a thick, white "meat" which is full of oil." -Picture Book
Coconuts can be found on the ground near palm trees on the beach. Coconuts may fall out of a palm tree when its trunk is shaken. Coconuts can sate both hunger and thirst, in a small way.
"Fruit that falls from coconut trees on the beach. Young coconuts have a lot of liquid. When they get old enough, their white pulp will become thicker." -Album
Lost In Blue: Shipwrecked
Edit
| | | | |
| --- | --- | --- | --- |
| Prepared: | Thirst | Hunger | Fatigue |
| Natural | +4 | +4 | +0 |
| Boiled | | | |
| Steamed | | | |