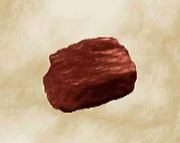 Large animal.
Lost in Blue
Edit
Found in the grasslands. Easiest killed using a Large Trap, shoot it with an arrow about two times. Drops Deer Meat, Lard, and Fur when killed.
"A large animal found in the grassland. The male has a branched horn. The meat is large." (Scrapbook)
Lost in Blue 2
Edit
Located in the jungle and in the grasslands.
"A large animal found in the grasslands. The male has anthlers on its head. Has a lot of meat on it." (Picture Book)