A stick is one of the more useful items in Lost in Blue. It has a variety of uses.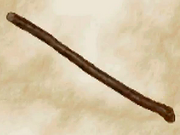 They can usually be found by searching near trees or by selecting trees (tapping them with the stylus) and shaking the tree's trunk.
Can be Sharpened into a spear. 
Can be Combined with a Tree Vine and a Sharp Stone to form a Fishing Pole. 
Can be Combined with a Tree Vine to make a Bow. 
Can be Combined with a Sharp Stone or Sharp Bone to create a better Spear than just Sharpening a Stick or peice of Bamboo.
Can be Combined with a chunk of Lard to create a Torch.
It is just a waste to be used as Firewood, though. It cannot be burned.
Sticks can be found lying on the ground near trees. They may fall from a tree when its trunk is shaken.
"A sturdy, wooden stick. Very useful material for creating tools, would be a waste to burn. Can be found near trees." -Album
Community content is available under
CC-BY-SA
unless otherwise noted.