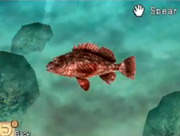 Seafood item from Lost in Blue.
Lost in Blue
Edit
Rare fish found in the ocean.
"A fish that bites bait often and lives along the shore. It has a large head and mouth with bulging eyes but it tastes quite good. It can hurt you if you get stung by its fin." (Scrapbook)
Lost in Blue 2
Edit
Found on Beach 4 and Beach 1.
"A fish that lives near the shore who often nibbles at any bait. It has a large head, large mouth and bulging eyes, but it tastes good. The sting from it's fin really hurts." (Picture Book)